May 8, 2023 – The Department of Health's Dr. Aiga Sesega and Ruta Ropeti talked with 93KHJ's Sia Atofau about the upcoming rheumatic heart disease screening clinics in American Samoa.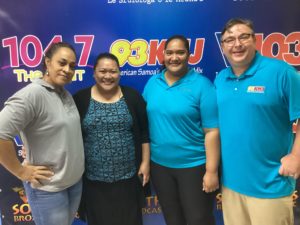 The screening will take place from May 2nd to May 18th at selected schools across American Samoa, including the Manu'a Islands. Selected schools have already received consent forms for parents/legal guardians to sign. If you have any questions or concerns about the screening, please call 219 to connect with the screening team.
Remember, early detection is key when it comes to Rheumatic Heart Disease. So don't hesitate to get your child screened today. The screening dates and locations are listed on the DOH Facebook page.
May 8 Rheumatic Heart Disease Screening
93KHJ Interviews