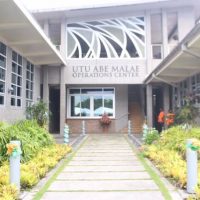 The American Samoa Power Authority is investigating the cause of a power outage last night which put all of the Tafuna area up to Fagamalo in darkness, and turning off air conditioners, fans and other cooling equipment giving residents respite from the heart.
Some resorted to waiting out the outage in their air conditioned vehicles.
When reached after 6 this morning, ASPA CEO Wallon Young said crews were still in the field of restoring a fault with a cable, and also restoring water after the power outage.
He said one of the generators at Tafuna went down, and there was also a cable fault.
The outage occurred shortly after 12:30pm. Power was restored to the Tafuna area up to the Futiga junction after an hour and by 2 this morning, all areas were back on.