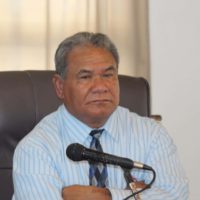 The former head of the Radiology Department at the LBJ Hospital, Vaanatiu Toafala Iafeta, has not received a response to his November 1st letter to the CEO of the LBJ Hospital demanding an investigation of the claims by one of the LDS volunteer physicians that there were five preventable deaths at the local hospital, which Vaanatiu may have contributed to.
He has now taken another course of action. He is circulating a petition with demands for an investigation of the claims, among other things.
Vaanatiu told KHJ News after his long and dedicated service to the hospital and American Samoa he needs to protect his reputation and clear the smearing of his name.
The claims of the 5 preventable deaths, he said, were made during a meeting in January this year and no action has been taken by the hospital management and board to investigate them. Vaanatiu was removed from his position in August.
His petition, which is posted at change.org, calls for an investigation of the 5 preventable deaths as claimed by Dr. Harold Walker; calls on the Governor to dismantle the current board of the LBJ Hospital; for a review of practice and procedures to address failings identified in the investigation report; to provide a plan of action for patient safety and quality care; and to ensure the board has policies to address proper clinical risk management and complaints management for preventable deaths, instead of interfering in hospital operations.