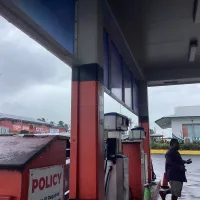 Prices at the pump went up substantially, effective today, Friday.
The new Maximum Allowable Price (MAP), or wholesale price schedule, for fuel, which was released today by the Office of Disaster Assistance and Petroleum Management, shows significant hikes in the cost of all petroleum products.
The wholesale price for unleaded jumps 22 cents a gallon to $3.80 gallon. After gas station operators add their costs, the retail price is about $4.59, or higher, according to gas station operators we've talked to.
Expect to pay $15 or more for the same amount of gallons you were buying before.
Diesel is selling wholesale at $4.19 a gallon, and retailing at $4.65 or more a gallon.
The biggest hike is in the price of ultra low sulfur diesel, which goes up 44 cents a gallon to $4.28 a gallon. The average price at the pump would be around $5.10 per gallon.
This is the fuel type that ASPA uses and the significant hike will be felt in utility bills for the coming month.
Director of ODAPM Lisa Tuatoo said, "The international market determines the rise and drop in prices. Our fuel prices don't follow the US market because our fuel comes from Singapore."