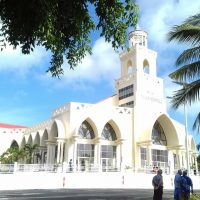 The Congregational Christian Church of Samoa intends to write to the Samoa Government and ask that it refrains from discussing same-sex marriage and transgender issues.
Samoa Observer reports the church's General Purposes Committee has agreed to this position and the General Conference is expected to endorse it this week.
The country's largest Christian denomination says same-sex marriages are against their Christian beliefs.
The subject of same sex marriage came up in a discussion in the Samoa Parliament, earlier this month, during the first-ever Commonwealth Parliamentary Association (C.P.A.) branch meeting at the Legislative Assembly.
The discussion was prompted by a report presented by the Fa'asaleleaga No. 2 M.P., Magele Fiaui Sekati, about an international meeting he attended on behalf of Samoa's Parliament.
Human Rights Protection Party deputy leader Lauofo Pierre Lauofo, however, stood up and said that Samoa's "third gender" is accepted into the community and the society.
He said same sex marriage is not allowed in Samoa at this stage; however, there have been recommendations to legalize it and other countries have already adopting those rights.
In 2021, Prime Minister Fiame Naomi Mata'afa was asked about her Government's stance on the issue of same-sex marriage in Samoa.
Fiame said, while Samoan law is vague when it comes to same-sex marriage, it is clearly illegal for people of the same sex to have intimate relationships.