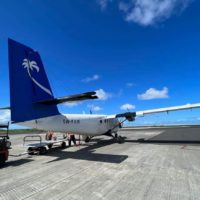 Customers have questioned why the two airlines serving the inter-Samoa route do not accept payments made with debit and credit cards, but just cash.
The summer is one of the most busiest times for both airlines because of church conferences in Apia, reunions and other gatherings.
Travelers buying tickets in person at the Samoa Airways and Talofa Airways offices at Tafuna Airport have complained about having to make an extra trip to get cash, as both airlines do not accept card payments for tickets.
Responding to KHJ News questions, both airlines said the reason why they only accept cash payments is because they don't have Electronic Funds Transfer Point of Sale (EFTPOS) machines. They reported they had applied for machines from the Territorial Bank of American Samoa some time ago, but they are still waiting.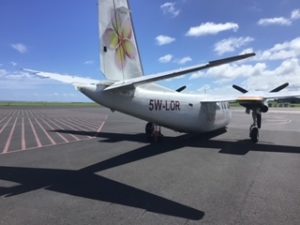 A spokesperson for Talofa Airways said they applied for an EFTPOS machine a long time ago but TBAS wanted them to submit two years of tax returns first. The spokesperson said people can book and pay for their tickets online but, if they go to their office at Tafuna to buy tickets they can't use their cards to pay because they don't have an EFTPOS machine.
CEO of Samoa Airways Fauo'o Fatu Tielu said it's true that they can not accept credit and debit card payments yet, because they "are sill in the process of getting EFTPOS from TBAS." He added, Samoa Airways accepts personal checks but the checks must be TBAS checks.
KHJ News contacted the President and CEO of TBAS, David Buehler, about the process for obtaining an EFTPOS machine. He said after a full and complete POS merchant application and supporting documents are received, they usually have a terminal installed within four weeks. "However, typically, signatures and documents are delayed." Buehler explained that financial statements and tax return requirements depend on the time that the applicant has been in business.