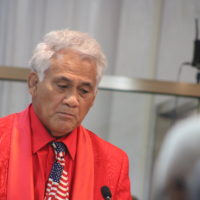 Senators did not want to discuss plans for a new hospital, rather their attention is still on the personnel issues at the territory's only medical center and the root cause.
So a hearing by the Health Committee, chaired by Senator Tuiasina Salamo Laumoli—who has been urging senators to give the management and board a chance to make improvements at the hospital—was called off.
The Acting CEO, Dr. Akapusi Ledua, and Chief Medical Officer, Dr. Joseph Shumway, were present for the hearing, however, the Chairman of the Board Dr. Malouamaua Tuiolosega was not present.
Dr. Ledua apologized to the Committee for the Chairman's absence.
Play Audio ledua-apology
Senators told Senator Tuiasina that yesterday's hearing was a continuation of their previous hearing with the LBJ officials, and they needed to discuss the problems with personnel at the LBJ. These were the views of Senate President Tuaolo Manaia Fruean, Senators Soliai Tuipine and Malaepule Saite.
The Committee Chairman Tuiasina apologized to Dr. Ledua and Dr. Shumway for the misunderstanding and excused them.
Meanwhile, the new nominee for the Board of Directors of the hospital, Dr. Patrick Pedro's nomination is expected to be introduced in the Senate, next week.
Dr. Pedro currently, a surgeon at Queen's Hospital, Honolulu, is to replace Dr. Malouamaua Tuiolosega.
In other developments, KHJ News reported yesterday that former Vice Chairman of the Board, Dr. Jean Anderson has been appointed as Executive Director of LBJ, an apparent new position.
An internal memo from Dr. Ledua to staff, yesterday, announcing the appointment said, "I have the confidence that the selection from the Board of Directors has undoubtedly rendered an impartial, thorough, and excellent choice for such a demanding position."
Emails have been sent to the Board Chairman Dr. Tuiolosega and Dr. Anderson about why the position is necessary, its functions, the salary and source of funding for the new position.