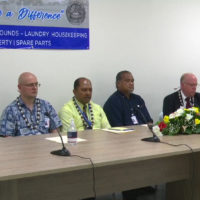 The Board and management of the LBJ Hospital is asking for everyone's help, as it strives to deliver high quality, safe, and comprehensive care for the people of American Samoa. This was one of the main messages that came through during a press conference that the board called, this afternoon.
The panel included the Chairman of the Hospital Authority Board, Dr. Malouamaua Tuiolosega, Vice Chair Dr. Jean Anderson, Acting CEO Dr. Akapusi Ledua, Acting Chief Medical Officer Dr. Joseph Shumway, LBJ Attorney Thomas Jones, and two doctors, Dr. Dimitri Oleanski and Dr. Kareem Khoziam.
The acting CEO, Dr. Ledua, who has worked at LBJ for 20 years, paid tribute to those who served LBJ in the past and the current staff, and emphasized that they needed everyone's help lifting the standards.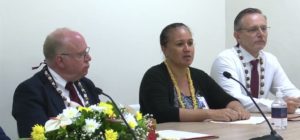 Play Audio
The press conference covered the new non-urgent care clinic, which opened yesterday, the hiring of 12 new doctors and the recruitment of 20 new nurses. Dr. Ledua said that within a month two Filipino nurses, who have been working in Fiji, will be here to join the hospital workforce.  They will sit the NCLEX exam and if they pass will work as RNs. (KHJ News apologizes for erroneously reporting earlier that the two nurses will take charge of the nurse recruitment.}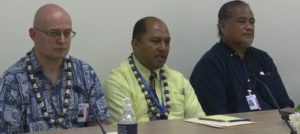 With regards to the former CEO Moefaauo William Emmsley, Board Chairman, Dr. Tuiolosega said that he takes full responsibility for Moefaauo's selection to head the hospital.
Play Audio
Vice Chair Dr. Anderson added…
Play Audio