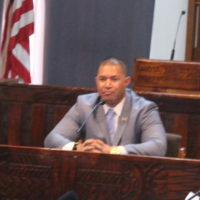 The Governor's nominee for Director of the Department of Search and Rescue, Faamasino Galoia, did not muster enough votes to be confirmed by the Senate. Eight senators voted for him, while 7 rejected his nomination. Ten votes were needed for him to be confirmed.
The vote came as a surprise because during the brief confirmation hearing for Galoia earlier, he was largely praised by senators.
Senator Malaepule Saite Moliga said, in the opening minutes, that he didn't know Galoia but has faith in the Governor's selection of a son of American Samoa to lead this new department.
The same comments were echoed by Senators Ponemafua and Muagututi'a Tauoa.
Senator Fonoti Tafaifa, who said she was related to Galoia, urged that he go to church as that will keep him on a straight path. She also advised that he think of the elderly, noting too many young people neglect their elders and act as if they own the world.
Committee Chairman, Senator Faiivae Iuli noted that Galoia's resume stated that from 2018 to the present, he was Incident Command lead for the Army and asked if this was still the case.
The 46-year-old Galoia said that's the work he had been doing before arriving in the territory in 2021, but his resume hadn't been updated.
Faiivae noted that most of Galoia's resume shows he worked in communications and intelligence in the military, and asked if he felt his experience was conducive to the position he's being nominated for.
Galoia answered yes, saying he feels his knowledge and experience in communication contributed to his selection by the Governor.