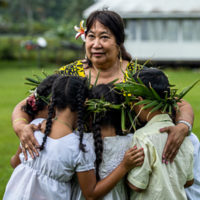 The Samoa Victims Support Group (SVSG) has warned that more young people will be seeking refuge with their organization as pressures mount at the end of the year.
Samoa Observer reports that the non-government organization has already taken in 45 children and 32 teenagers seeking help this year for sexual abuse, physical threats and harassment, physical abuse, neglect and torture.
Of the 32 teenagers, 18 were male and 14 were females with problems ranging from misbehavior, trouble with the law, and dropping out of school.
Most of the females had run away from home.
President of SVSG, Siliniu Lina Chang, said they also deal with young people calling in on their helpline.
"Since we have a helpline, we get calls during school hours and because we have a good relationship with schools, we are able to attend to these cases," she said.
She said, there are a range of problems from being bullied to physical and sexual abuse—which happens at home or around their villages.
"School time is the only time they can make these calls."
The statistics released by the NGO coincides with the 16 Days of Activism global movement, which creates awareness to stop violence against women and children.
A National Public Inquiry into Family Violence in Samoa, released by the Office of the Ombudsman in June 2018, found that physical, harsh verbal discipline/violence and sexual violence towards children had reached epidemic levels.