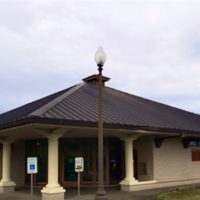 The Territorial Bank of American Samoa (TBAS) reports that its ATM at the Tafuna Branch was badly damaged in a robbery attempt, early Saturday morning.
A press release said that the bank's Tafuna Branch was broken into, early Saturday morning, November 27, 2022, resulting in the TUPE VAVE ATM being badly damaged beyond repair.
Nothing was taken as Department of Public Safety (DPS) arrived while the robbery was in progress and arrests were made.
"It will take us about four to five weeks for a replacement ATM to arrive," said the press release.
"Nearby ATMs include TSM Mart and McDonald's. More ATMs are at Aveina, KS Mart, and Cost U Less."
KHJ News reported this morning that Joeita Faaliga, a serial escapee, who has broken out at least 5 times, was apprehended while trying to break into TBAS. Faaliga's usual mode of operation is to leave the Territorial Correctional Facility at night, burglarize homes and businesses, and then sneak back to the jail before sunrise.
His escapes date back to 2016, the latest one was last July where he was on the lam for 3 days.
Another inmate, Wayne Gasolo, was also captured last week at the DPW motor pool.
The Department of Public Safety and Department of Corrections never made a public announcement about the inmates being at large.