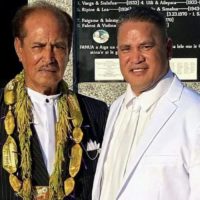 The Senate held a moment of silence during their session this morning, to remember one of their colleagues, Senator and Paramount Chief Satele Galu Satele who passed away, yesterday.
Senate President Tuaolo Manaia Fruean was teary when he said, at the start of the session, that Senators may have learned that a pillar of the Fono and Senate, Paramount Chief, Alo o Salamasina, Satele had departed this earth.
Satele had fallen ill over a year ago and had been in and out of the hospital. He had been recovering but his health took a sudden turn and he passed away, yesterday.
Satele was known as an outspoken senator who wasn't afraid to speak his mind, especially about administration policies and practices.
He was especially vocal during the Lolo lemanu administration.
For example, he was critical of the traffic rules in front of the Laufou Center when buses, cars and members of the public faced restrictions.
He also voiced questions that members of the public asked, like when former Governor Lolo Moliga was absent for several months off island, undergoing medical treatment, and there was no information on his condition.
During the COVID pandemic, Satele was emphatic that the territory should not allow flights to and from the territory to protect the island from COVID. His statements about protecting the island from COVID were amongst his last statements on the Senate floor, before he fell ill.
Satele was Secretary of Samoan Affairs during the Lolo administration but parted ways due to disagreements that were never fully explained. He became senator for Leasina, after he left Samoan Affairs.
Before he became Secretary of Samoan Affairs, he was Western District Governor.
He served as faipule for Tuala tai after several years as chief of customs.
One of Satele's favorite pastimes was tending to the malae of his village of Vailoa.
He would often be seen on his lawn over in the hot sun, mowing the malae by himself, and pruning the lautalotalo leaves that circled the malae.
To honor the passing of a paramount chief, chief Senator Tuiagamoa Tavai delivered oratory to express sympathies to the family, district, and the Senate that a leader of the government and territory has ended his service here on earth.
Satele's good friend, Pulu Ae Ae Jr., shared that he was shocked to hear of Satele's death, as they talked regularly and Satele had been regaining strength.
"Satele was a good man who cared for and loved American Samoa very much. I will miss my dear friend," lamented Pulu.
PC Satele was 80. He is survived by his children, grandchildren and great grandchildren. To them, we extend our deepest condolences.
Photo: PC Satele Galu Satele with son Tapumanaia Galu Satele jr.