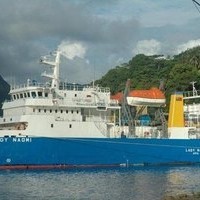 We had on the news this morning, that Lady Naomi was scheduling two specials this week and the week of White Sunday.
But this morning, KHJ News was informed that the two special sailings have been scrapped.
There was no information on why but it's believed that the COVID-19 Task Force made the decision at its meeting, Tuesday.
Port Administration advised the local agents of Samoa Shipping Services and Polynesia Shipping, late yesterday afternoon, about the decision.
By then, SSS had already begun advertising the special sailing.
KHJ News understands that StarKist Samoa guest workers, who had been notified to come on the special sailing tomorrow, were called last night about the change.