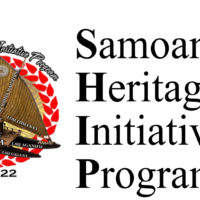 From August 6 to the 12, the arts, culture, sports, entertainment and people of American Samoa will be on display for the Samoan Heritage Initiative in Hawaii.
A program of the event seen by KHJ News resembles a Flag Day celebration with sports competitions, an ava ceremony, parade, food, car show, health displays, entertainment and speeches.
Governor Lemanu Peleti Mauga says in the official program for the event, "To celebrate our heritage is to honor our tofi (inheritance), As the former Head of State of Samoa, his Excellency Tui Atua Tupua Tamasese Efi once stated, "I am not an individual, I share a tofi with my family, my village, and my nation." We must never forget that the Fa'a-Samoa is our inheritance which grants us the innate understanding of our tofi—the God given gift that emphasizes our responsibility to our Samoan heritage."
He continues, through initiatives that promote Samoan language and perpetuate our customs and traditions, we hope to contribute to the collective efforts of all Samoan communities in the preservation of the Fa'aSamoa. The Samoan Heritage Initiative Program highlights what makes us Samoan —our rich culture, our poetic language, and our firm traditions."
Tomorrow (Saturday) evening will be a dinner to award 25 scholarships. Lt Governor Talauega Eleasalo Ale will be the keynote speaker and his wife Marian will present the awards. This will be held at the Filipino Ball Room in Waipahu.
A moment of silence for Dr Lentoy Matagi, one of the planners for the Heritage Week who passed away suddenly earlier this week, is on the program.
Sunday is a church service at Kananafou CCCAS in Kunia with the various Samoan church communities and choirs featured in the program.
From Monday to Friday next week, there are daytime activities and events in the evening. There will be food booths, agricultural displays, arts and crafts, fitness and health, car show and other exhibitions. Then in the evenings there will be featured guest speakers from American Samoa and entertainment.
Leaders from American Samoa who will deliver remarks are Lt Governor Talauega, House Speaker Savaii Talavou Ale, Senator and former Governor Togiola Tulafono and Secretary of Samoan Affairs Mauga Tasi Asuega.
The main venue for the event is Keehi Kagoon Park near the airport.
KVZK-TV will be covering the week long event.