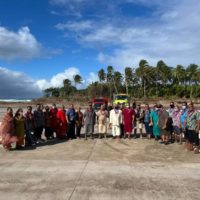 The newly extended and upgraded Ofu Airport was dedicated on July 14th, but it wasn't until this past weekend that the airport passed test flights by Samoa Airways.
There were three touch and go flights this past Saturday at Ofu Airport, which has been extended to 2000 by 75 ft. Before it was 1980 by 60 ft.
Airport Manager Tavita Fuimaono said, the airport is now open for flights.
After the test flights by Samoa Airways, there was a joint ASG and FEMA charter to Ofu — to assess damage from the recent wave action.
And yesterday, Governor Lemanu traveled on another charter to check out Ofu Airport and other projects.
Samoa Airways has yet to announce its schedule of flights for Ofu.
.
The airport extension was built by Paramount Construction.
At a hearing of the House Committee on ASPA a week ago, Ofu and Olosega faipule Tioalii Sai complained that during conmstruction of the Ofu Airport the water supply for Ofu was off around 10 at night.
He observed that the construction crew would leave the water running at night, draining the water tanks. He said, evidence of the water waste was that the runway was flooded in the mornings because the water was tunning overnight.
ASPA executive Director Wallon Young confirmed this.
Play Audio