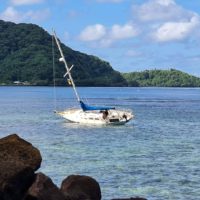 A yacht, which has run aground off Aua village, had asked for permission to enter the port of Pago Pago yesterday afternoon but was denied.
This was confirmed by Director of Homeland Security Samana Semo Veavea.
The yacht, named SV Volunteer, had on board two men, a US citizen and a Belgian.
The yacht was overheard on the VHF radio around 2pm, yesterday, requesting entry.
According to Samana, the standard procedure since the COVID pandemic is for vessels to request prior permission, at least 72 hours before arrival. But the yacht didn't follow this.
He said, as a precaution to allow time to check out the background about the yacht and its occupants, instructions were given to keep the yacht out until today.
But by morning, the yacht had drifted and ended up running aground in shallow waters off Aua.
Samana said, the two occupants swam ashore to Aua village. First responders were at Aua to render assistance and also administer COVID tests. Both men were negative, said Samana.
They were taken to the hospital to be checked and treated for bruises and were then taken to the quarantine site at the airport hangar.
Samana said, the men were okay and today he gave the okay to release them so they can check their yacht and salvage their belongings on board. Photos taken this morning showed the yacht on its side but was intact.
The yacht had sailed from Tahiti on April 22 and is headed for the US mainland, said Samana. Homeland Security is investigating what the yacht was doing around American Samoa and why they wanted to enter, when they hadn't requested prior permission.