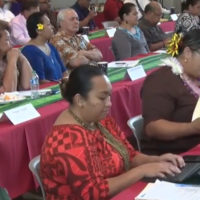 Lt Governor and Chairman of the Covid-19 Task Force, Talauega Eleasalo Ale, laid down the gauntlet about Covid vaccinations when he addressed the cabinet meeting on Monday.
A press release about the cabinet meeting quotes him telling directors, "I feel saddened, that during the past month the Governor had to ask Directors to have ASG employees receive their shots, and even mandating this as a condition to continue working for ASG. Yet today, over 3000 government employees have not reported their vaccination status or have refused not be vaccinated. The Governor does not want to force anyone to do any of this. The Governor does not force the employees to come work for the American Samoa Government. But if you choose to work for the American Samoa Government, then you will have to follow the rules. Working for the American Samoa Government is not a right, it is a privilege. We are privileged to have the opportunity to serve the people of American Samoa."
Talauega declared, "Directors, this mandate falls upon you. If you have listed your top three priorities moving forward, getting your employees vaccinated should be number one. Make sure you are personally involved with identifying your employees and getting them vaccinated. We need your help."
The Task Force Chairman also explained the procedures for obtaining exemptions to Covid vaccinations. The two grounds are medical or religious beliefs,
Talauega said, "Just saying you want to be exempt with no reason fails to meet the requirements" and that many of the forms he's seen are incomplete.
"Forms will be available to apply for exemption. And if approved, then you have to follow the rules for reasonable accommodations. These accommodations will be to let you wear masks or exempt you from public gatherings."
Talauega also brought up the anti vaccination movement.
"We now have a growing population of those opposing vaccinations," he observed. "Some say it's because of their religious beliefs, but others say they are exercising their individual rights. I got my vaccination to make sure I would not be the cause of killing someone else. I was thinking about my elders and my kids. But, people that oppose the vaccine are not thinking about the rest of the island. They do not think about others. They are thinking only internally. They think about me, it's all about me. My individual rights, my freedoms, and nobody can tell me what to do."
The Lt Governor told directors, "We need to educate others that it is not only a personal choice. We need to do it to protect our kids and our island. The virus is continuing to mutate and grow, and we will need to continue being vigilant. Please encourage more of our citizens to get vaccinated."