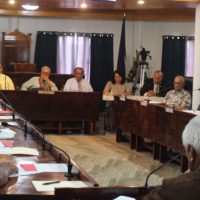 The Covid-19 Task Force reports a total of 695 prospective travelers had registered for last night's Hawaiian Airlines flight according to updates from the ASG Hawaii Office.
The exact number of confirmed travelers for the flight was to be determined once results of the third Covid test had been provided.
254 people left on the outbound flight last night.
According to a press release from the Task Force, reports from TalofaPass also indicate that 584 prospective travelers have registered for the November 1st flight.
During the cabinet meeting last Friday, Director of Health Motusa Tuileama Nua said that they would be requesting approval from the Task Force to change the timeframe for the final Covid test in Honolulu.
He said instead of 48 hours before departure they have discussed changing this to 24 hours before departure so as to minimize exposure to the virus.
The change was first mentioned during the joint Fono hearing with the Task Force last week.
Acting Clinical Director at DOH Dr. Elizabeth Lauvao told the hearing that Director Motusa has decided to make the change.
But travelers who arrived on Hawaiian Air last night say their last test was 48 hours before departure.
Limited flights resumed between the two Samoas with 56 American Samoa bound residents arriving on Tuesday.
Flights were temporarily suspended at the decision of the Samoa Government until further information from the American Samoa Government on the status of the three positive cases could be provided. Samoa wants to confirm the type of variant of the confirmed coronavirus cases before allowing travelers from the territory. Such confirmation would not happen until more confirmed cases are identified.
Samoa's move to ban arrivals from American Samoa yet it is allowing travelers from New Zealand where the Delta variant continues to spread, is raising eyebrows.
With regards to testing of the sample from the first coronavirus case, as we reported earlier DOH has decided not to send the sample on its own as planned.
Chief Epidemiologist Dr Aifili John Tufa said the US Centers for Disease Control and Prevention, CDC, were extremely concerned about sequencing the positive sample because if there are just a few positive cases here, CDC is worried that it may be too easy to identify who's sample was sequenced.
With their sequence reports going out nationally and worldwide, they are concerned about patient privacy.
"We decided that we'll wait until a certain number of confirmed cases is reached locally before we can send 1 sample for sequencing," said Dr Tufa.
He said the plan is to send 10 specimens in a batch for testing.
So far there's been 3 coronavirus cases identified locally from travelers in quarantine and 6 of crew members on board vessels entering the territory.
The crew members were quarantined on board their vessels and never set foot on land.