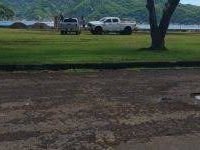 With the fales at the Fagaalu Park taking up part of the sports field, the Dept. of Parks & Recreation is working on a plan to extend the field.
Without going into details, Project and Grants Manager for the department Mile Falani Filoialii said that the parking lot will be relocated so as to extend the field area. Towards the end of the Lolo Lemanu Administration, new fales were constructed along the park shoreline and the bathroom facilities were renovated.
The Fagaalu park is where cricket games are held and the location of the fales is where the outfielders for cricket games are stationed. There have not been any cricket games at the park since the fales were constructed.
Relocation of the parking lot and an upgrade of the basketball and volleyball court are the next projects for Fagaalu Park.
Suiga Ula in Utulei and Lions Park are the most used parks in the territory.
Aside from the addition of a second court and new fales for Lions Park, Ms. Filoialii said that trails will also be added along with exercise stations.to be