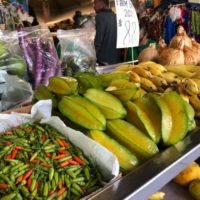 There has been a slight change of plans for the Flag Day program following the Flag Raising Ceremony at the Fagatogo Pavilion, Malaeoletalu, on Friday April 16th.
There will be no BBQ at Suigaula ole Atuvasa beach following as previously planned.
Instead, the public is invited to join the Governor and VIP guests as they attend the American Samoa Flag Day International Farm Fair at the Veterans Memorial Stadium in Tafuna following the program at Malaeoletalu.
Beginning at 10am, the Office of the Governor will set up at the Stadium to issue vouchers for use inside the fair at any of the over 60 restaurants that will have food booths there.