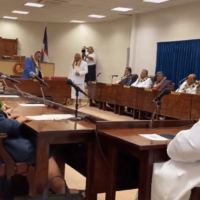 As of last Friday, the names of nine acting directors of the Lemanu and Talauega cabinet had been submitted to the Fono for confirmation.
The House will hold its first confirmation hearing today and the Senate will begin reviewing the director nominees tomorrow.
The Acting Director of the Office of Program Planning and Budget Development, Catherine Saelua, is to appear before the House Budget and Appropriations Committee at 11:00 this morning.
Saelua has worked in the Budget Office for over two decades and spent the last eight years as Budget Director for the Lolo-Lemanu administration.
At 1pm today is the confirmation hearing of Malemo Tausaga, Acting Treasurer.
Malemo who headed the Lemanu-Talauega gubernatorial campaign is also a former Budget Director and was most recently Deputy Secretary of Samoan Affairs.
Tomorrow, the Senate Budget and Appropriations Committee chaired by Senator Utu Poasa will hold confirmation hearings for Saelua and Malemo, beginning at 8:30 am.
Other confirmation hearings in the Senate this week are for Director of Health Motusa Tuileama Nua and Attorney General Fainu'ulelei Alailima Utu on Thursday and Port Administration Director Christopher King on Friday.
The Senate confirmation hearings begin at 8:30 a.m.
Also in the Fono today, the House Health Committee chaired by Andra Samoa will question the COVID-19 Task Force concerning the repatriation flight from Honolulu, on January 29. That hearing is at 8:30 this morning.
Other director nominations now before the Fono are Lynn Pulou, Acting Director of Human Resources, Samasoni Asaeli, Acting Director of Education, Kenneth Soala Tupua, Acting Director of Parks and Recreation and Faleosina Voigt, Director of Public Works.