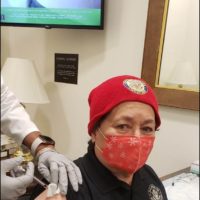 Congresswoman Uifaatali Amata reports that she received the COVID 19 vaccine Saturday, and she encourages people to take the vaccine as it becomes available.
"It was not difficult and I have not felt sick," Uifaatali said. "I do think it's the right thing for our people to do, so we can begin a return to more normal times."
The House of Representatives will begin a new Congress at the start of January, and must gather in person.
Various proxy and remote participation efforts of the past Congress do not automatically continue into the next, and will be reconsidered. Currently, the Office of the Attending Physician is advising Members of Congress to take the vaccine, and has been administering the vaccine to them.
Vaccines are being made available nationwide as they are produced. Vice President Pence has publicly taken the vaccine to encourage people across the nation to be willing to take it upon availability to them.
In addition to the Pfizer vaccine, a second one by Moderna has also been given approval by the FDA. Both are delivered as a shot in the arm and a second shot is scheduled 28 days later. Other companies have vaccines in development.