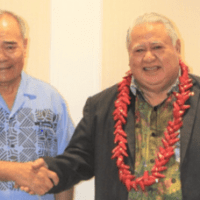 Nearly a week after it was announced that American Samoa has approved flights to return, Samoan citizens stranded here to Apia, intending travelers are still waiting for word on when the flights will begin.
According to the Governor's Executive Assistant, Iulogologo Joseph Pereira, Governor Lolo Moliga's letter to Prime Minister Tuilaepa Sailele last week authorized the flights.
The Samoa PM had requested repatriation flights to return Samoan citizens stranded here and also for the Lady Naomi to resume its sailings to American Samoa for the export of agricultural products an other goods.
According to Iulogologo they are waiting for a list of Samoan citizens that the Prime Minister wishes to repatriate from the territory.
Last month both Samoa Airways and Talofa Airways publicized on Facebook a registry for Samoan citizens needing to return from American Samoa to sign up on.
Iulogologo said only those passengers allowed by the Prime Minister can travel on the flight. No other passenger can leave unless Samoa gives the okay, he told KHJ News.
In the same letter the governor granted permission for the ferry Lady Naomi to bring and take cargo. The flights can also bring cargo from Samoa.
According to last week's announcement from Governor Lolo the repatriation flights will only take Samoan citizens from the territory to Samoa , but no one can travel on the return flight to American Samoa.
The Samoa Airways aircraft that's based here for the Manu'a air service will be used for the repatriation flights.
When KHJ News inquired with Samoa Airways here and in Apia about when the flights will begin, we were told that they are waiting for the Governor's Office to give the okay.
Some cannery employees who have children in Samoa are eager to return home to be with them and have said they do not plan to return to the territory after the holidays.
Thus they are waiting for information on when the repatriation flights to Samoa will begin and also whether they can travel on the Lady Naomi to Apia.
In related news the planned sailing of the Lady Naomi that was scheduled to arrive tomorrow morning has been cancelled due to severe weather. A notice from the Samoa Shipping Corporation said there'll be a sailing next Tuesday Samoa time which will arrive here on Monday, and return the same day,.