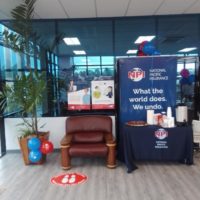 New Zealand and Pacific Insurer, Tower, which trades as National Pacific Insurance in the two Samoa and Tonga, announces it will be rolling out new digital technology to make life easier for its Pacific customers, following a profit announcement this week.
Tower's underlying profit excluding large events increased 23% over the prior year to $34.7 million
Underlying profit including large events increased 3% on the prior year to $28.4 million.
The company advised that strong customer and profit growth was achieved thanks to its continued focus on digital and data.
Tower Managing Director Pacific, Paula ter Brake says the improving underlying performance means Tower can proceed with digitization plans across its Pacific island business, starting with a new private motor vehicle product in Fiji this month.
"The Pacific islands are an incredibly important part of our business," says ter Brake. "We've been operating here for over 145 years and we are excited to be the first insurer to provide a fully optimized digital platform for our customers to use across the region."
She said starting in Fiji, customers will be able to do much more online including getting a quote, buying a policy and making a claim.
"We want to give our customers more options and give them control over how they communicate with Tower. So it works best for them."
This has already proved very popular in New Zealand, where they are seeing 65% of all new business sold online "and we believe this can be replicated across the Pacific."
The Managing Director said, "Tower's financial results demonstrate that the company is well capitalized and in a strong position to continue to support the region and build resilience in the years ahead as we work together to help the Pacific islands realize their potential."