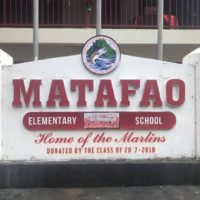 A name that is synonymous with education in American Samoa is that of the late Mr. Nikolao Pula.
He was the first Samoan Director of Education for the American Samoa Government and was appointed to the position during the tenure of the last appointed governor, John Haydon.
His son is Mr. Nikolao Pula, Director of the Office of Insular Affairs, Dept. of Interior.
Next week Matafao Elementary School will be named after this pioneering educator of American Samoa, a decision that Governor Lolo Moliga made known a while back.
Director of Education Dr Ruth Matagi Tofiga says the governor believes this would be a fitting tribute to Mr Pula's contribution to education in American Samoa.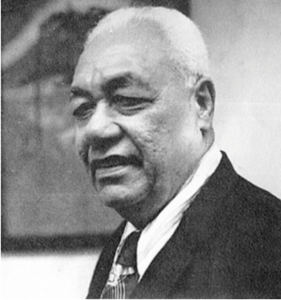 "I believe, to be appointed as the First Samoan Director of Education is a milestone. He paved the way for all of us, it is indeed a fitting tribute to this education pioneer in American Samoa," she told KHJ News.
But the name change is not sitting well with some Matafao alums who have expressed their displeasure and are hoping their voices of protest will result in their seaside alama mater retaining its name.
Matafao's Class of 1994 sent KHJ News their comments about the name change and qualified that they do not mean any disrespect for Mr Nikolao Pula with their expressed views.
Carol Alailefaleula Schuster said, "Whatever the situation/reason behind the name change, we the class of 1994 of Matafao Elementary School, ask that you please consider it's been decades and this is our 2nd home, away from home growing up. Let the legacy of Matafao continue. There's the gym, and the new buildings to dedicate in the honor of Mr Pula. But please let Matafao, be Matafao. It's not just a name it's a Family-"
David Kap Ainuu shared the same sentiments.
"Matafao has been a symbol of hope, love, and gratitude. I petition to keep the name Matafao" he declared.
In his view its not the change of name that will improve education, rather "it will improve if we focus on better trained teachers and a carefully chosen learning based curriculum," in light of COVID-19. Ainuu is calling on Matafao alums to get on board and stop the name change.
Gwenda Tuika Reyes had some strong comments. "Unbelievable and disappointing is an understatement" she said. "I will never begin to understand what on God's earth is going on out there."
She said, "To some it may just be a name but for the many of us it is more than that. It is the foundation of our childhood education that led us all to different walks of success in life. Why would you honor someone with something that already has a history? Are we trying to rewrite history?"
She hopes and prays their efforts are not too late. "I am humbly asking if there is a way we can save our school name let's all work together in doing just that."
Eliza Gurr asks, "After all these years why now?. And adds Matafao Will Always Be Home."
She suggests, "if Governor Lolo wants to do something to be remembered by before he leaves office, why not name one of the buildings Matafainstead of changing the name of the whole school?"