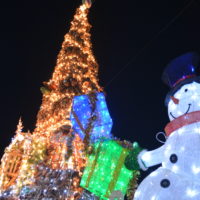 Thirty-one groups including church and Sunday school choirs, schools and community groups are ready to take the stage for the three nights of the Annual Holiday Music Festival which kicks off Sunday at the Fagatogo Pavilion.
This will be the 43rd Holiday Music Festival organized by the Amerika Samoa Council on Arts, Culture and Humanities and the Department of Youth and Women Affairs.
On Sunday First Lady Cynthia Malala Moliga will turn on the switch which will light up the Territorial Christmas Tree and lights adorning the perimeter of the Fagatogo malae.
The opening night begins at 6pm with a prayer service led by Rev Ekitoa Sopoaga of the CCCAS in Ta'u, Manu'a
Governor Lolo Moliga is also scheduled to give remarks. The 10 groups set to perform Sunday evening are:
Catholic Church Sa'ilele
Vatia Assembly of God Church
Leone High School Student Council
Amaua CCCAS Sunday School
Catholic Youth Vailoa
Nu'uuli Methodist Youth
LDS Light the World Special Choir
Masefau Assembly of God Church Youth
Lotonuuu Youth Malaeloa and
Leloaloa Methodist Sunday School.
The Monday and Tuesday evening performances will also being at 6pm.
Director of the Amerika Samoa Council on Arts, Culture and Humanities Lauagaia Mary Taufetee invites the public to come out and enjoy the sounds and sights of the season at the Fagatogo malae.