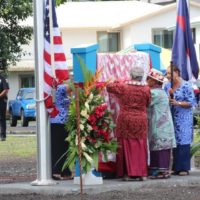 First Lady Cynthia Malala Moliga unveiled the new name of the Utulei Beach Park on Saturday morning… Afioga Tufele Liamatua Sr, Tufele Cultural Center.
The new name hangs from the arch of the extended Fale Tele or Guesthouse at the park.
Tufele was American Samoa's first locally elected Lt Governor and served as a senator, Secretary of Samoan Affairs and also Manu'a District Governor.
It was during Tufele's tenure as Secretary of Samoan Affairs during the Togiola Government that the Fale Samoa was built with funding from the Office of Insular Affairs, Department of Interior.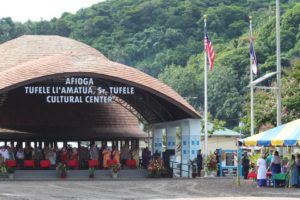 The purpose of the guesthouse was to help preserve cultural traditions through events such as ava ceremonies, entertainment, and meetings. Thus the fale would also serve an educational purpose.
The cultural center includes the extended guest house, a seawall, eight fales along the beach and an extension to Dont Drink the Water Restaurant.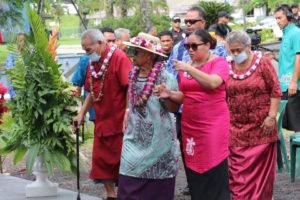 On Saturday Governor Lolo Moliga praised the contribution that Tufele made in cultural preservation and towards American Samoa's political development. He said the cultural center bearing Tufele's name will be a venue that families, organizations and the government will use for their events, like birthdays, and also to relax.
The guesthouse meanwhile will be a venue for the practice of cultural traditions and for territorial gatherings.
Mrs Tofiga Tufele said she was at a loss for words to express her profound gratitude for the government's gesture in naming the center after Tufele.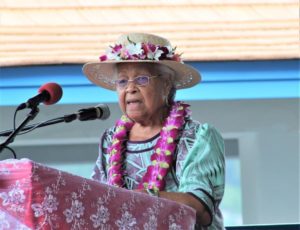 She reflected on her late husband's desire to build the center so that the youth of today will experience and learn the cultures of Samoa and inspire them to preserve these traditions, their heritage.
She said while the person whom the government "dealt with" was not present it was an honor for her to speak on behalf of her family to thank Governor Lolo Moliga and Lt Governor Lemanu Peleti Mauga for the honor accorded Tufele.