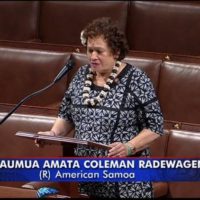 The US House of representatives yesterday passed and sent to the Senate a bipartisan small business bill that Congresswoman Uifaatali Amata introduced.
The Parity for HUBZone Appeals Act (H.R. 8229) directs the Small Business Administration (SBA) to authorize the Office of Hearings and Appeals (OHA) to hear HUBZone appeals.
The Historically Underutilized Business Zone (HUBZone) federal contracting program assists small businesses in economically disadvantaged areas (HUBZone qualified areas) by providing them with better access to federal contracting opportunities.
The business must meet eligibility criteria in order to be HUBZone-certified. For instance, effectively all of American Samoa is a HUBZone-qualified area under those requirements. This change would increase objectivity and transparency for small businesses upon appeal.
"The HUBZone program can help level the playing field for small businesses in remote or economically challenged areas, including American Samoa," said Congresswoman Aumua Amata. "This bill makes processing small business appeals more transparent and even-handed. Thank you to the House for passing our bill, and Congresswoman Houlahan for working with me to establish these principles of fairness for small businesses."
Currently, a final appeal of a HUBZone business's status in the program goes to the Associate Administrator of the Office of Government Contracting & Business Development (GCBD), which also oversees the program office that signs off on the certifications. Yet, OHA already hears status protests or appeals regarding a company's eligibility in the program for all of the other SBA contracting programs, except for the current HUBZone program, which this bill rectifies.
This change would eliminate conflict or appearance of conflict by removing oversight of the appeals from the entity that issues those HUBZone certifications.
OHA is a separate body from the offices that issue certifications, making it a more appropriate and objective venue to process status inquiries.
It makes sense for both the SBA and taxpayers to have all appeals heard under one roof. OHA already handles appeals for the WOSB (women-owned small business), and SDVOSB (service-disabled veteran-owned small business) programs, and eligibility determinations for the 8(a) program, and under this common sense reform, would take on HUBZone appeals.
OHA offers more transparency, to the benefit of the public and small businesses. OHA's decisions are published online and searchable, providing a clear "paper trail."