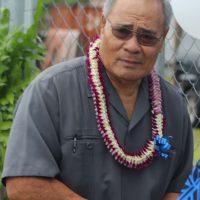 Governor Lolo Moliga says he was "on board" with the United State Air Force plans to have three planes land here and for 31 personnel to overnight in the territory, when the request was first made two months ago.
But he said when he learned more information about the trip and about a crew member testing positive for coronavirus he changed his mind.
Speaking to KHJ News by phone this morning the governor said the fact that the virus is air borne and there's still so much about it that's not known, he is not going to take any risks as far as preventing the entry of this deadly virus to our shores.
Lolo said the original request was for the 31 travelers to overnight in a hotel after their arrival but he said that was not an option.
After a crew member tested positive for coronavirus, said the governor, the USAF pushed to have two planes continue the mission and not the plane with the crew member that tested positive for the virus, a plan he supported.
However he had a change of mind after being informed of the first confirmed case of coronavirus from Samoa last week.
According to Governor Lolo, the USAF came back with a plan to have everyone remain on the aircraft during their stop over and no one would set foo on the ground at Tafuna.
But he said he was still not convinced that this was enough protection for the territory.
So he denied entry for the USAF planes and personnel.
The mission dubbed "Operation Deep Freeze" is transporting supplies to the McMurdo Research Station in Antarctica.
And the trip originated from the east coast, with a landing in California, on to Hawaii and an over night stay and reusing stop here before continuing on to Christchurch New Zealand and to their final destination.
According to the governor, the group is still trying to find a way to land here but he has told them they have to look at an alternative refueling and stop over site.
KHJ News understands that Samoa Prime Minister Tuilaepa Sailele has been approached for assistance.