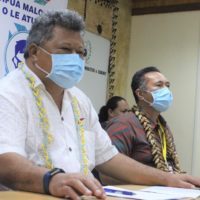 Samoa's Ministry of Health is sending swabs of the Samoan sailor who had tested for coronavirus last night and this morning yielded a negative test result.
According to Director General of Health Leausa Dr. Take Naseri a sample of the swab from the sailor will be sent to New Zealand tomorrow.
They also plan to take a blood sample for testing in NZ.
Leausa said at a press conference this afternoon that the young man is in good health and isn't showing any symptoms of coronavirus.
He remains isolated at a special ward at the National Hospital.
In addition MOH is requesting the shipping company where the young man worked for details of health checks conducted while he was in Italy.
The sailor was among 26 seafarers who traveled from Europe via Dubai and New Zealand last Friday with more than 270 others.
According to a press release from the Samoa Government, they were all tested for coronavirus upon arrival at Faleolo Airport and they were all negative.
All were tested again yesterday, 4 days after, and the sailor was the single test with a positive result.
He was immediately isolated to the Special Ward at the National Hospital together with his roommate from their shared quarantine accommodation.
Although the roommate, also a sailor from Europe tested negative, health authorizes have isolated the pair together as a precautionary measure.
Police have also been mobilized to the Hospital for security reasons and to ensure there is no breach or contact between the two sailors with unauthorized personnel.
The sailor was again tested at 6:00 am today and his result was negative.