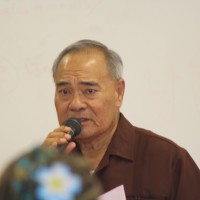 Following the announcement by Samoa Prime Minister Tuilaepa Lupesoli'ai Sailele Malielegaoi this morning, the Governor's Office issued a press statement saying, "Governor Lolo M. Moliga, while sympathetic over this regrettable news, is now taking decisive actions to ensure that we continue to keep American Samoa coronavirus free…"
He has issued an order immediately suspending all flights to and from Samoa along with the weekly trip by the Lady Naomi.
"This order will remain in effect until further notice."
The governor has instructed Director of Health Motusa Tuileama Nua and the LBJ Hospital Chief Executive Officer Faumuina J. Faumuina Jr. to connect with their counterparts in Samoa to "forge appropriate collaboration to curtail the spread of this virus."
Furthermore, the Director of Port/Airport Administration Taimalelagi Dr. Claire Tuia Poumele and the Department of Health Director have been "directed to revisit our protective protocols at our seaport to improve their efficacy preempting the accidental importation into our territory of the coronavirus by fishing and cargo vessels."
"We wish the Prime Minister and the people of Samoa well and we pray that the spread of this deadly virus is speedily contained and eradicated," said Governor Lolo.
He added, "Our people should remain calm and untroubled as we have taken all precautions to safeguard and protect the lives of our people" and to keep our home free from the coronavirus".
The Lady Naomi was due to arrive tomorrow but with today's order, tomorrow;s sailing has been cancelled.