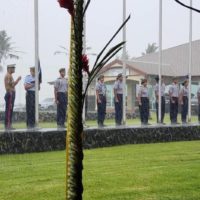 Under heavy rain yesterday at the Veterans Monument in Tafuna, veterans were saluted and thanked for their service.
Those who gave the ultimate sacrifice were also remembered.
Governor Lolo Moliga reflected that Jesus Christ himself, gave his life so that the world is free from sin.
"Our fathers, mothers, sons and daughters, have also given their lives to obtain the freedoms that we enjoy today," he said.
Lolo told the crowd which included veterans and their families that when he leaves office he will continue in his role as protector of the Samoan culture and traditions as a talking chief.
He said this is his God given duty as an orator.
The governor thanked all veterans for their service and sons and daughters who are continuing the battle for freedom.
He said the election of a veteran, Lt Governor Lemanu Peleti Mauga as governor is a testament to their contributions and service to American Samoa.
He asked for prayers for the the US President and President-elect.
To his cabinet, several of whom were present, the governor said they will work till the last minute of their time in office and when they leave they will all support the Governor Lemanu and Lt Governor-elect Talauega Eleasalo Ale.
First Lady Cynthia Malala Moliga laid a wreath on the Veterans Monument.
There was much admiration for the cadets and reservists who stood in the rain and performed their duties for the ceremony such as raising the flags of each branch of the Armed Forces, and firing a gun salute in pouring rain, without flinching.