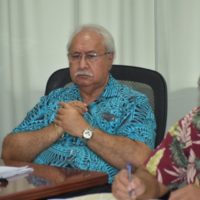 The Coronavirus Task Force met today to vet the Revised Repatriation Plan prepared by the Department of Health.
The Chairman of the Task Force Iulogologo Joseph Pereira says they are scheduling a meeting with Governor Lolo Moliga later this week to present their recommendations.
Details of the revised repatriation plan would be released when everything is finalized.
Director of the Office of Insular Affairs Nikolao Pula told our Washington DC correspondent Matt Kaye last week that repatriation could start even before a December ban on Hawaiian Air flights to the territory expires.
Under the current Emergency Declaration for COVID-19, suspension of Hawaiian Air flights which started in March, will continue for another 30 days with a possible reconsideration date of December 31st.
Prompted by concerns from Tagata Tutu Faatasi Alliance of American Samoa Pula initiated a Zoom session with the Coronavirus Task Force and the Alliance to bring the two sides together to discuss possible solutions.
An outcome of that initial meeting was the possibility of a test repatriation flight from Hawaii with about 80 travelers.