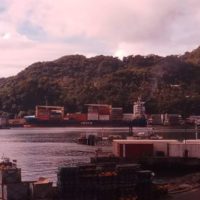 Three crew members of a container ship which arrived in port yesterday Fesco Askold have tested positive for COVID-19.
Department of Health Epidemiologist Dr Aifili John Tufa announced the positive coronavirus tests at a press conference late last night, with Director of Health Motusa Tuileama Nua, Deputy Director Fara Utu, Chief Medical Officer Dr Saipale Fuimaono and South Seas Broadcasting Inc General Manager Pauga Joey Cummings.
Play Audio
Dr Tufa said that these three confirmed cases are not considered local cases, but rather are in transit, because the individuals who tested positive did not set foot on island.
Port authorities pulled the ladder from the vessel while it's in port. This morning it's supposed to be sent outside the harbor to await further instructions Again none of the crew came off the boat and none of its cargo was unloaded.
As of 7am the vessel was still at the main dock and no information was available as to why it had not been sent out to sea as planned at 6am. The port was also on lock down as a precautionary measure.
There's no change in the Code Blue restrictions we are currently in. Schools are on and all departments are open as usual.
Director of Education Dr Ruth Matagi-Tofiga says all principals and teachers have been instructed to follow precautionary measures such as having students wear masks and using hand sanitizers and so forth.
Plans were to send the ship out however according to DOH, Coast Guard regulations prohibit entry and exit of vessels after 6pm.
The 11 people who were taken into quarantine are 7 DOH personnel who went on board to administer the tests, two lab technicians and two Port Administration pilots who guided the container vessel into port.
The Fesco Askold calls into port regularly and its local agents are Samoa Pacific Shipping.
The DOH personnel who boarded were in full PPE gear which included Tyvek suits, face shields, masks and gloves.
None of the people on board the vessel were showing symptoms of the coronavirus. According to the DOH officials all are asymptomatic.
The Department of Health has been in contact with Samoa's Ministry of Health alerting them of the positive coronavirus tests since the container vessel was in Apia for a day before it arrived here.