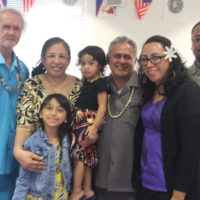 At a meeting of Swains islander voters yesterday at the Election Office incumbent Swains Representative Su'a Alexander Jennings was selected for an 8th term in the American Samoa House of Representatives.
About 80 people attended the meeting, which was observed by Chief Election Officer Dr Lealofi Uiagalelei, Deputy Fiti Tavai, Attorney Faoa Aitofele Sunia and other members of the Election Office staff.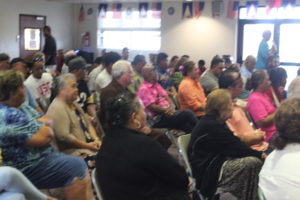 Ms Zenophia Jennings was nominated at the start to lead the meeting.
The three nominees that were put forth were the incumbent faipule, Mrs Penieli Baker and Bert Thompson.
Lomitusi Tyrell also expressed an interest in the Swains Island seat but no one nominated him.
In the voting which was by a show of hands, Su'a Alexander Jennings received 37 votes, Penieli Baker received 9 and Bert Thompson got 4 votes.
Su'a expressed his thanks for the opportunity to represent Swains in the House of representatives again and stressed the importance of unity, noting that the people of Swains are one family.
He said the role of faipule is not an easy one since they don't have a vote and unity is needed to bring about change.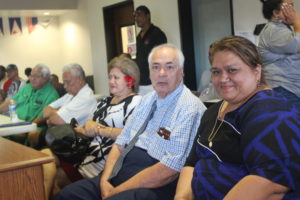 Su'a becomes the first of 21 members of the American Samoa House of Representatives to win his seat. The rest will be decided in next Tuesday's general elections.