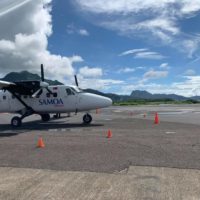 About eight local residents, Samoan citizens, traveled on Samoa Airways to Apia earlier week to obtain visas from the US Embassy in Apia, in order to travel on Monday's medical flight to Hawaii.
Responding to KHJ News queries, Director of Health Motusa Tuileama Nua said the flight overnighted in Apia then returned with the travelers the next day.
Upon their return all had to be quarantined at the Tafuna quarantine center. Motusa said they will be released before they travel on Monday.