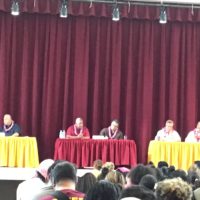 The last gubernatorial forum before voters head to the polls on November 3, took place yesterday at the American Samoa Community College Multipurpose Complex with three teams participating: I'aulualo/Tapaau, Lemanu/Talauega and Nua/Satele.
The first question posed by the president of the Student Government Association which organized and hosted the forum was what the candidates would do to address the failure of the government to pay subsidies to the college which according to the law is $2,820 per full time student.
Candidate for Governor I'aulualo Fa'afetai Talia said there has always been problems getting this money to the college.
And it's not the law that's the problem but bad habits and bad administration. "Most of all the government doesn't have enough revenues to operate on," he said.
I'aulualo stated that this is why he and Tapaau are firm on the need to diversify the economy, to generate new revenue streams for government operations including money for the college.
This was the reply from his running mate Tapaau Dan Mageo Aga.
Play Audio
Candidate for Lt Governor Talauega Eleasalo Ale answered for the Lemanu/Talauega Team.
Play Audio
Answering for the Nua/Satele ticket, Governor Candidate Nuanuaolefaiga Saoluaga Nua said during campaigns, the candidates will always give a political answer but their team speaks the truth. Then he volleyed a shot.
Play Audio