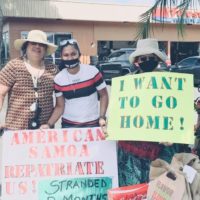 The Tagata Tutu Faatasi Alliance of American Samoa, the community group pushing to repatriate residents of the territory who are stranded in Hawaii and the mainland have yet to get a response form Governor Lolo Moliga and the Coronavirus Task Force to its request for stimulus funding to help with their living expenses.
Eileen Tyrell, a resident of Washington State is active in the group. Her mother traveled to Washington for medical check ups and is among more than 500 people waiting for word on when there'll be a repatriation flight to bring them home.
Tyrell said those stranded are struggling to make ends meet.
Play Audio
The Alliance is holding a wave at Utulei tomorrow, Friday, from 6am to 8am and welcomes support from the community.