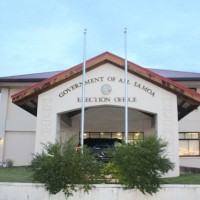 The Chairman of the Campaign Spending Commission, Finauvale Alex Zodiacal is asking candidates who have yet to file their organizational reports to please do so as soon as possible. The reports were due on September 18.
In the gubernatorial race the teams which have yet to file these reports are Gaoteote and Faiivae, I'aulualo and Tapaau and Nua and Satele.
Fourteen candidates in the House of Representatives race have also not filed: Shaun Va'a, Faalae Tunupopo, Avagafono Maiava, Tuika Tuika, Vailiuama Leasiolagi, Vesiai Poyer Samuelu, Logoituau Mark Atafua, Puletuimalo Dick Koko, Andrew Autele, Bartley Papali'i Su'a Lucia, Larry Sanitoa, Saili Samoa, Vui Florence Saulo and Timusa Tini Lam Yuen.
Chairman Finauvale reminds candidates that failure to file the required reports is a Class B misdemeanor offense which carries a maximum penalty of 6 months in jail and or a fine of $500 for individuals and $2,000 for corporations.