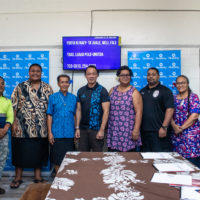 Detainees at the Juvenile Detention Center have a 43" Samsung Smart TV to while their time away at the facility.
And they can enjoy free Moana TV programming for a whole year.
The TV and subscription were donated by BlueSky which partnered with the American Samoa Community College's Samoan Studies Institute to support detainees by providing reading materials, games and activities to occupy their time.
The TV was delivered the day before White Sunday making it a special gift for the teens at the Juvenile Detention Center.
Director of the Samoan Studies Institute Okenaisa Fauolo was overcome with emotions in expressing her heartfelt thanks for the special donation.
"Bluesky is fully committed to investing and empowering the youth of American Samoa, and are grateful for the opportunity to help bring some normalcy to the daily lives of the youth at the juvenile center, " said BlueSky's Chief Operations Officer Paul Young.
That same day, BlueSky presented a check of $1000 and in kind products to the American Samoa Fijian Community Association to help with the celebrations of Fiji's 50th anniversary of Independence.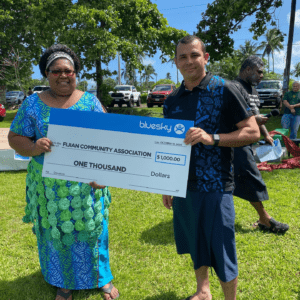 Bluesky's parent company, Amalgamated Telecom Holdings, is a Fijian based company. BlueSky is a major employee in American Samoa and its workforce consists of 94% local employees as well as specialists from Fiji.
BlueSky's Chief Technical Officer Stuart Fong said, "Bluesky is grateful of the local Fijians' support and their contribution to our local community and we wish all the Fijians living in American Samoa all the best in their celebrations today."