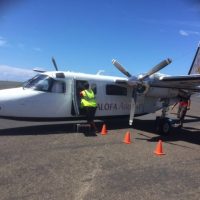 Travelers to Manu'a will have a choice of air service . The US Department of Transportation has approved Talofa Airways' application to operate flights to Manu'a for a 30- day period from October 26 to November 24, 2020.
US DOT said in an October 19 notice that it was granting Talofa Airways' request to operate services to Manu'a using its 9 seater Twin Commander 690fB aircraft for a period of 30 days or until five days after a US carrier initiates intra American Samoa passenger operations, whichever occurs first.
In order to operate domestic service in American Samoa the airline had to obtain a waiver from the cabotage rule which prohibits a foreign airline from flying directly between two US points.
Samoa's national airline, Samoa Airways, is currently flying between Tutuila and the islands of Ta'u and Ofu and Olosega, Manu'a.
In its application, Talofa Airways said the American Samoa Government, citing the unreliability of ferry service between the islands among other reasons, has determined that a second foreign air carrier service is necessary to meet the critical transportation needs of its residents.
It asserts that its proposed services will offer more frequent air service and operations being sought by ASG in order to prevent undue hardship to its residents, who are highly dependent on air transportation to meet their essential needs, including receipt of critical medical treatment and the delivery of much needed goods and government services.
The airline further asserts that no US carrier is able to provide this service.
US DOT Asst. Secretary for Aviation and International Affairs, Josel Szabat, said they were persuaded that the absence of US carrier passenger service in the market at issue, along with the assertions made on the record by multiple representatives of the Government of American Samoa that an additional foreign air carrier services are necessary to meet the critical transportation needs of American Samoa, "constitute an emergency created by unusual circumstances not arising in the normal course of business."
Included with Talofa Air's application were a Senate resolution passed last year formally requesting Talofa Airways to seek authority for flights to Manu'a along with letters of support from then Acting Governor Lemanu Peleti Mauga and House representatives of the Manu'a Islands.
In addition based on the representations of the US carriers, USDOT concluded that no US carrier has aircraft available that could be used to conduct the operations at issue here. They also found that grant of this authority would prevent unreasonable hardship t o American Samoa and its residents and that the applicant was qualified to perform its proposed operations.
An official of Talofa Airways said from Apia that they hope to start flights to Manu'a in mid November and their plan is to fly daily Monday to Friday to Manu'a.