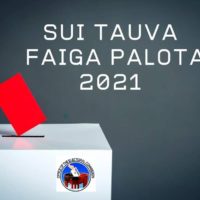 Some village mayors in Samoa are being accused of election tricks that may cause some intending candidates for the 2021 General Elections missing out on registering.
Samoa Observer reports Secretary of Fa'atuatua i le Atua Samoa ua Tasi (F.A.S.T.) political party, Va'aaoao Salu Alofipo, says several of its election candidates are facing discrimination from village representatives seeking to obstruct their nominations.
Va'aaoao said village mayors or women representatives are refusing to endorse them to stand for Parliament.
"We are sad about this because it reflects the biases and discriminatory conduct of [people in] such positions," he said.
"These are positions of the Government and they are responsible for the signing of these papers and yet they keep running away avoiding our candidates".
He revealed that there are five candidates from F.A.S.T. who have been affected by so far and that the Electoral Commissioner has been informed.
According to the Electoral Commissioner, Faimalomatumua Matthew Lemisio, it is illegal for a village mayor to avoid signing a candidate's election form without a valid reason.
Faimalo said "unless" a mayor had a valid reason for doing so they were obliged to endorse a candidate.
Faimalo said it was possible that a candidate who had their nomination to stand for Parliament frustrated in this fashion by a mayor without due cause could possibly have grounds to initiate a lawsuit.
One of the valid reasons that would allow a village mayor to avoid signing a candidate's documents would be the candidate's failure to meet their monotaga (local contribution) requirement.