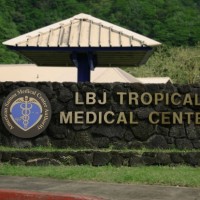 (Press Release)…The deadline for screening all patients for the medical charter this Friday for the patient referral list is 12:00pm on Monday, October 19.
Please contact the LBJ Off-Island Medical Referral office for instructions on patient referral requirements.
The deadline allows enough time for Hawaiian Airlines to process and screen all the medical patients through their MedLink services to ensure the safe and fit-to-travel status of all patients. Normally this process takes 3-5 days.
Delay in getting patients approved through MedLink will result in the denial of travel for a patient. It is critical that all patients seeking to be referred off-island have completed all their screening and medical referral documentations by 12:00 noon on Monday, October 19.
COVID testing for patients by DOH will begin on Tuesday, October 20, at the Tafuna DOH ACF building. More details will be forthcoming.
If a patient or escort is not approved for Medicaid referral, the traveler may still request to be put on the non-medical passenger list at the Attorney General's office.
If a patient misses the Monday deadline for the patient referral list, you may still be able to get on the AG's list for the flight.
The cost share for this charter flight is $920 PPG to HNL only.