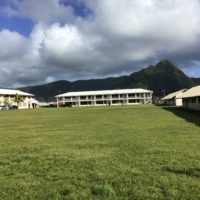 The Tafuna High School PTA today presented its petition to Governor Lolo Moliga to restore their school's lower campus which has been designated as the site for a new Department of Education Building. The petition has more than 3,000 signatures.
The lower campus was where Tafuna's award winning JROTC program which currently has 300 students was based, along with the Arts and Applied Tech classes.
The JROTC program has been relocated to the already overcrowded upper campus which according to cadet and Student Body President Pele Kruse is not conducive for their drills, marksmanship practice and other activities.
Play Audio
The school is holding a peaceful protest in front of the TBAS Tafuna branch tomorrow, Friday, from 6am to 8am in the hopes that Governor Lolo Moliga will give Tafuna its lower campus back.
PTA President Will Spitzenberg.
Play Audio