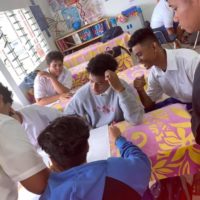 More information about the Signs of Suicide Program that community service organization, EPIC (Empowering Pacific Islanders in Communities), is rolling out in schools has been provided by Associate Director Toleafoa Kathryn McCutchan.
The program includes a brief depression screening tool that youth complete and score to see where they are.
"This does not provide a diagnosis, but sends up a red flag," Toleafoa she said.
Based on the scores, it will allow EPIC to provide brief intervention on site or at the EPIC offices.
And if the scores are high, EPIC or the school principal will make immediate referral to the Department of Health for professional help.
Toleafoa pointed out overall it sets up a system where the school implements a universal prevention program that all students, receive, a method to identify those who need more assistance through proper screening, and referral to DOH or Department of Human and Social Services for clinical assessment and treatment.
EPIC purchased the license to implement the Signs of Suicide Program in the territory and that gives the group permission to use all associated instructional materials.
The EPIC Associate Director feels it would be ideal for every high school and middle school to have their own licenses with full access to all the SOS materials.
EPIC also has a counseling team prepared to conduct the parent training in Samoan and are translating the handouts and letters for parents into Samoan.
Toleafoa emphasized that everyone in the community has a role to play and helping schools implement a school-based suicide prevention education program.
"Service as a resource to the school administrators, staff and students is the role EPIC have decided to play given the need for resources in our community," she said.