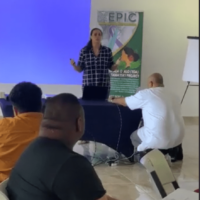 While people were busy doing White Sunday shopping on Saturday, a group of students, teachers and principals took up an open invitation by EPIC (Empowering Pacific Island Communities) Associate Director Toleafoa Kathryn McCutchan to "Get involved", the theme of World Mental Health Day, October 10.
Psychologist Dr Jueta McCutchan -Tofaeono facilitated a workshop to help teachers process what they need in schools and provide tools and skills to help them respond effectively to the needs of their students.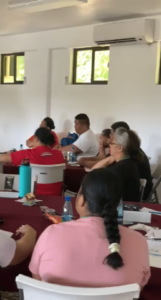 Associate Director Toleafoa said so many teachers who have lost students to death by suicide reached out to Dr. McCutchan-Tofaeono for help.
Many were suffering from grief, loss and feeling ill prepared on how to help their students.
EPIC sponsored the Saturday session to help educators process what they need as support for their work in schools and provide them with tools to help respond more effectively to students' needs.
Some students turned up for the Saturday session which was supposed to focus on teachers and principals.
After a session with everyone together the students left and Dr McCutchan Tofaeono focused on teachers and principals.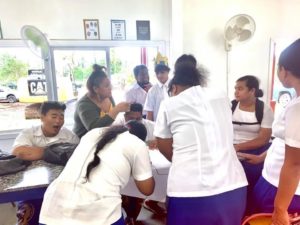 One of the points she made was that students can be a positive force in changing the script and overriding the images and narratives on social media about recent suicides.
An example is the free hugs groups springing up on high school campuses.
Another is just being a listener or being with someone showing signs of stress or anxiety
The young people were also told that they themselves can produce positive images and messages and override the dark forces that are ever present on social media and may be influencing young minds.
EPIC has also started a school outreach in response to requests from principals, teachers and even alumni to deal with suicide.
They've started with Faasao Marist High School whose principal, Lentoy Matagi requested help after so many students asked questions and showed they needed support with the surge of young lives lost to suicide.
Training at FMHS was held last Friday for seniors and juniors and continued this week for the rest of the classes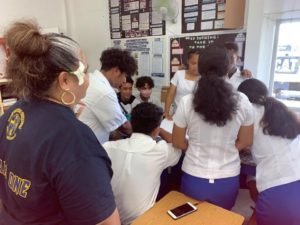 Toleafoa acknowledged the participation of Marist Faasao alums Maki and Kamo Koloi, Dr. Robin Faumuina Vasai and Stan Vasai and Dr. Akenese Nikolao.

Tafuna High School has also requested training for their teachers in suicide prevention education.

Tags: