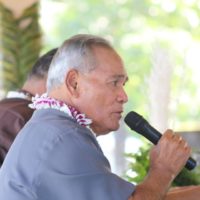 At yesterday's emergency cabinet meeting, Governor Lolo Moliga stated that if the Fono doesn't act on the FY2021 budget, they will prepare a six-months budget and leave it up to the next governor to deal with it.
Lolo informed directors that he has extended the 15 days Special Session of the Fono by another 15 days and did the same for the executive order that's continuing ASG operations,in the absence of an approved budget.
He told directors the government is operating at FY2020 spending levels but said the only exception is personnel costs because "we have already given the people their salaries, we cannot change them."
He explained that if a department's travel budget is $200,00 a year they can only use $50,000 in the first quarter.
Lolo said he has sent the budget back to the Fono with his recommendations and extended the Fono session and executive order by 15 days.
"If the Fono has not acted on the budget in that time, the administration will prepare a budget that will take the government to the next six months, and then leave it up to the next governor to put forward his own budget," said Lolo.
Adding this may be the easiest way forward.
He advised directors to attend hearings if they are called to testify.
As of this afternoon senators and representatives we checked with said they have not been called back to review the budget.
The last correspondence from the Fono leaders to the governor on Monday informed him that the House and Senate have reaffirmed the FY2021 budget that they approved with amendments. The governor has said that the budget bill he got from the Fono has been annulled.