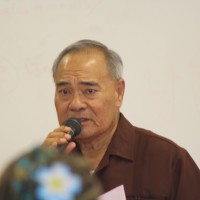 The suspension of Hawaiian Airlines flights to American Samoa will continue for the month of October. This was announced by Governor Lolo Moliga at yesterday's cabinet meeting.
He said that he advised Hawaiian Airlines yesterday that there will be no flights for the month of October as the COVID-19 pandemic in Hawaii and the mainland is getting worse.
"These are trying times ," the governor told directors, adding that he and his family have received unpleasant calls from people who are unhappy that they cannot come home.
The group pushing for repatriation flights, Tagata Tutu Faatasi Alliance of American Samoa has recorded about 400 people stuck in Hawaii and across the United States since March when flights from Hawaii to the territory were suspended.
Lolo urged that directors help make people understand the reasons for their decision not to allow any flights at this time. He said he understands the frustration of those stranded off island, "they are our people, our brothers, sisters and children."
The governor stressed that decisions made by he and the lt governor and cabinet are for the good of the whole territory.
He apologized to the stranded residents saying he understands the difficult predicament they're in however their main responsibility as leaders is to protect the people in the territory.
Lolo asked for prayers so that the time will come soon when the pandemic can be abated and travel is restored so our people can come home. For the month of October however there will be no Hawaiian Airlines flights to the territory.
Other than a medical charter on July 22nd the last commercial Hawaiian Airlines flight from Honolulu to Pago Pago Pago was on March 26.
The current COVID-19 emergency declaration suspends Hawaiian Air flights for all of September with a reconsideration date of October 1. However with the latest announcement by the governor, Hawaiian Airlines will be notifying travelers again that there'll be no flights to Pago Pago for the month of October.