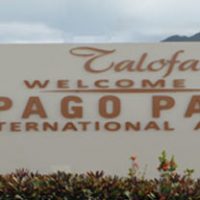 The exercise that will test protocols and response to a repatriation flight bringing stranded residents from Hawaii and the US mainland is taking place but not tomorrow as announced by the governor.
Director of Port Administration Taimlelalagi Dr Claire Poumele, who co-chairs the planning committee for the exercise with Commissioner of Public Safety Le'i Sonny Thompson says they've had a walk through of the exercise yesterday and will have another one today.
The exercise will simulate the arrival of a flight with 139 passengers on board, which the Port Director said is the maximum that Hawaiian Airlines can carry under COVID-19 restrictions.
A group has been selected to role play passengers who will disembark from the flight, and go through the screening process. This will include checks of their temperatures, their travel papers and their travel histories, after which they will go through immigration and customs then board buses to take them to quarantine sites,.
Local company, Island Safety and Sanitation will sanitize all of the carry on bags for the passengers upon arrival.
The exact date and time for the full scale exercise will be announced once finalized.
Generally the exercise is to simulate the arrival of a Hawaiian Airlines flight so the timing would be close to the passenger check in times, arrival and departure of Hawaiian Air flights.
Director of Health Motusa Tuileama Nua told KHJ News that DOH, along with LBJ Hospital and the VA clinic have mapped out their roles and protocols for the exercise.