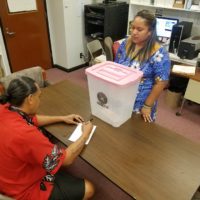 The deadline to challenge candidates for the November 3rd elections in the race for governor/ lt governor, Delegate to Congress and American Samoa House of Representatives has expired.
Chief Election Officer Dr Lealofi Uiagalelei has certified as official all of the candidates who had filed by the September 1st deadline, without any changes.
The four teams in the gubernatorial race are Gaoteote and Faiivae, I'aulualo and Tapaau, Lemanu and Talauega and Nua and Satele.
For Delegate to the US Congress the candidates are Aumua Amata, Meleagi Suitonu Chapman and Oreta Tufaga-Mapu Crichton.
There are no changes in the candidates running in the 17 districts for the House of Representatives election from the list that was released earlier.
Altogether there are 51 candidates in the race for 20 of the 21 seats in the House. The remaining seat is for Swains island and their faipule will be selected through consensus of voters of Swains Island descent.
The Election Office has also released information concerning off island and local absentee voting.
As of yesterday there were 188 off island absentee voting requests which includes voters who are stranded off island due to COVID-19, plus military personnel and students.
Of that number, 61 percent are stranded voters due to COVID-19 and 36 percent are military personnel. Students make up 2% and ASG employees make up 1%
The number of local absentee ballot requests was 112, and this includes poll watchers, election officials, disabled voters and those who may travel off island for an emergency and not make it back on Election Day.
Local absentee voting is now open at the Election Office Monday to Friday. The Election Office will also be opened Saturday from 8am to noon for local absentee voting and voter registration.
Total registered voters as of yesterday is 15,730. The deadline to register is October 5.